Deprecated: Function create_function() is deprecated in C:\inetpub\wwwroot\com.consultantsguild\blogs\inc\_core\_url.funcs.php on line 817

Deprecated: Function create_function() is deprecated in C:\inetpub\wwwroot\com.consultantsguild\blogs\inc\_core\_url.funcs.php on line 818
Wayne Allen to Speak at SD Best Practices 2007 on 9/21/2007
Deprecated
: Array and string offset access syntax with curly braces is deprecated in
C:\inetpub\wwwroot\com.consultantsguild\blogs\plugins\_auto_p.plugin.php
on line
502
Deprecated
: Array and string offset access syntax with curly braces is deprecated in
C:\inetpub\wwwroot\com.consultantsguild\blogs\plugins\_auto_p.plugin.php
on line
500
Deprecated
: Array and string offset access syntax with curly braces is deprecated in
C:\inetpub\wwwroot\com.consultantsguild\blogs\plugins\_auto_p.plugin.php
on line
500
Deprecated
: Array and string offset access syntax with curly braces is deprecated in
C:\inetpub\wwwroot\com.consultantsguild\blogs\plugins\_texturize.plugin.php
on line
116
Agile methodologies are just as prone to mistakes, deviations and subversion as any other methodology. This workshop is intended to discover and share agile antipatterns then discuss and present creative solutions. Anti-patterns, also referred to as pitfalls, are classes of commonly-reinvented bad solutions to problems. They are studied, as a category, in order that they may be avoided in the future, and that instances of them may be recognized when investigating non-working systems. This workshop focuses on participants' (less than perfect) experiences in the workplace and mines the collective wisdom of the group to come up with creative solutions via a brainstorming process followed by breakout sessions and then group presentations.
https://www.cmpevents.com/SDe7/a.asp?option=C&V=11&SessID=5358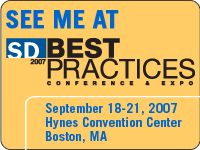 Feedback awaiting moderation
This post has 9 feedbacks awaiting moderation...