Posted by

wayne

on Jan 13 2009 in Agile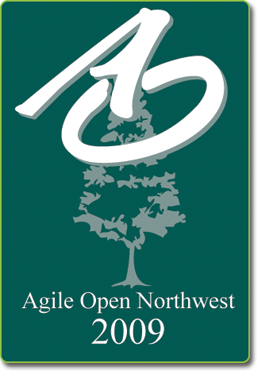 Agile Open NW 2009 has been scheduled for Feb 10-11, 2009 at the Ambridge Event Center in Portland, OR.
I'll be there again. If you are anywhere near Portland and have an interest in all things agile, this is a can't miss opportunity.
---
Agile Open Northwest, an alliance of agile practitioners in the US Pacific Northwest region, presents Agile Open Northwest 2009.
We invite you to our third annual conference. Our first conference in Portland brought together members of the Northwest Agile communities. We held our second annual event, Agile Open Northwest 2008, last year in Seattle and enjoyed another great success.
Please join us this year as we host 100 experienced, collaborative, committed agile practitioners from the Northwest U.S. (and beyond) in tackling the issues around our theme "Agile for Real."
Your commitment to arriving at the beginning and staying until the end both days will ensure we build on conversation after conversation as we engage important questions like:
What is agile really?
What does agile development look like in the real world?
Who practices agile philosophies, methods, principles or practices in the Northwest, and what's the impact?
What does agile or agility look like in organizations?
What new technical challenges face agile?
How does agile co-exist with project management, process control and other governance structures?
How do we adapt agile practices to our organizations without diluting them?
Can agile methods work in big, risky projects? How?
When distributed teams use agile approaches, what changes?
When an organization chooses a transition to agile, what really changes?
The Northwest has a wealth of practitioners with years of real-world experience with agile methods and self-organizing teams. Agile Open Northwest offers an opportunity to strengthen our community of practice and co-create the future for agile development in our region. Feel free to browse the list of currently registered participants.
Your hosts designed this event to allow practitioners like you to meet in self-organizing groups where we can share our latest ideas, challenges, hopes, experiences and experiments. We follow an Open Space format to foster collaboration and allow the conference to take its direction from the participants themselves.
What: An Open Space event discussing agile practices and techniques.
Where: Ambridge Event Center, *new* location near the Convention Center and Max line, 1333 NE MLK Blvd., Portland Oregon
When: February 10 and 11, 2009
Who: Anyone with some degree of experience in agile methods.
Cost: $125 per person, including lunch both days
A comment from a previous attendee:
"These two-day Agile Open Northwest conferences are an extremely good value. ..[Y]ou learn directly from practitioners in the agile community what works and what doesn't. I attended the first two of these conferences, they were stunningly good... loads of practical, useful stuff and stimulating discussions." -- Ian Savage, PNSQC Program Chair
This entry was posted by
wayne
and filed under
Agile
.