Posted by

wayne

on Aug 07 2008 in Personal
Previously I posted about my new V-Strom which is a nice bike. However, after taking it on something more difficult than gravel roads and compared to my wife's Honda CRF150 I knew I needed something much lighter, more dirt oriented, but could still be ridden on the street.
After much research I initially narrowed it down to the Kawasaki KLR 650, Honda RX650L and the Suzuki DR650. The KTM and BMW were out of the picture because of cost. My lingering concern was the weight of the 650s.
So what did I buy? A Kawasaki KLX250S!.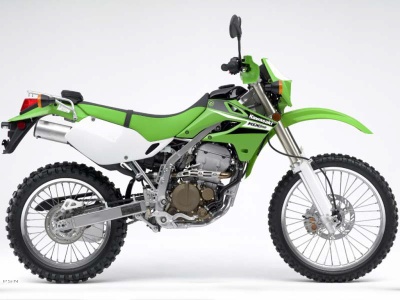 Why did you buy such a small bike after owning (and enjoying) those liter street bikes? Well, basically it was time spent riding the CRF150. I knew that the 250 would be able to take me anywhere I wanted to go, and it easily does the legal speed limit. What more do you need? (well actually I'm saving my pennies for a Ducati ST4 for my wife and I to do 2-up riding.)
This entry was posted by
wayne
and filed under
Personal
.