Yes another motorcycle post.
After riding the other bikes this summer there was just something missing from the KLX 250. Primarily my wife. We were both missing the enjoyment of heading out for an hour or two on the weekends or a warm evening riding tandem. We know this might be an issue we we purchased the KLX, but figured we'd save up some money and deal with it next summer.
Fast forward to the present. I'm hanging around the dealership waiting for the service department to put some new tires on the KLX. The showroom is completely dead and I didn't bring anything to occupy my time, so I'm wandering around admiring the bikes. One of the salesmen strikes up a conversation as they are likely to do. Eventually he gets around to asking me what kind of bike I'd be interested in if I was really looking.
I'm honest with him. I say I'd be interested in something for riding 2 up. I've been here a few times and know they don't really have much in that category, but I've got time to kill and salesmen always have a bunch of good stories. He takes me through their limited inventory - a FJR, and a Concours. Both are nice bikes, but I'm not really into buying new off the showroom floor.
He detects my lack of real interest and asks what I'd really want. I say I'd be really interested in a Ducati ST4, knowing that the local Ducati dealer has this market pretty wrapped up. To my amazement he says hesitantly I think we have one of those.
I'm stunned for a moment. Then I come back to my senses. Most Ducatis are sports bikes, not touring bikes, it is extremely doubtful they really have what I'm looking for. Nevertheless I follow him outside where some of the used bikes are on display.
We walk down the line of bikes and by this time I'm not expecting much, but then I see it. A 2001 Ducati ST2 in yellow! Now ideally I would love to have on in Ducati red, but at this point I don't really care to much. It has only 5,500 miles and the price is reasonable, but not amazing. I hem and haw. He asks me how much I'd be willing to pay. I tell him a ridiculously low number. At this point he reveals that it is a consignment bike and if I want we can write up an offed. What the heck, I've got time to spare and worse case I go home with nothing.
While we're writing up the offer my wife shows up (she was going to take the old, but still serviceable KLX tires home). I give her the tour and the salesguy finds the key so we can listen to it. It sounds fantastic with the Fast By Ferracci carbon fiber pipes on it. She is excited, I'm excited. We talk, we decide how much we'd really be willing to pay. The salesman comes back with a counter offer and is willing give up the consignment fees.
We now own a nice yellow 2001 Ducati ST2.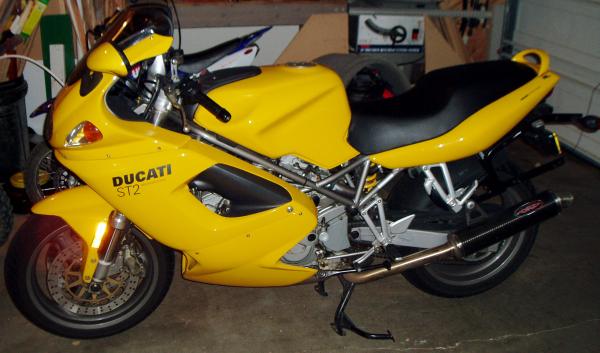 The next weekend wasn't so nice but a few of us went for a ride anyways. We got wet, but had fun just the same.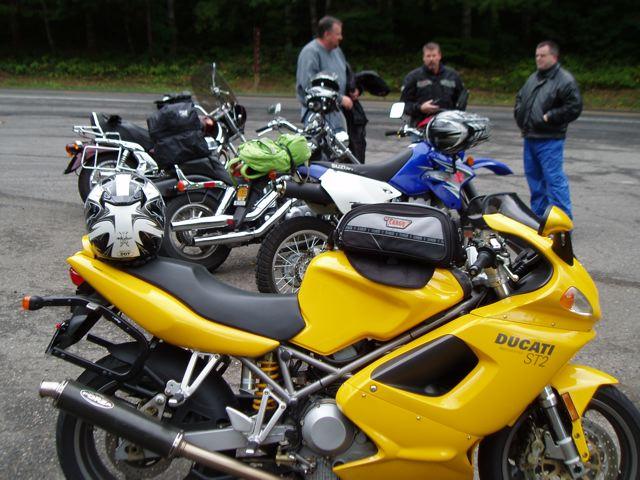 Interestingly each one of us owns a different kind a bike, a standard, a cruiser, a dual sport and a sports bike.
This entry was posted by
wayne
and filed under
Personal
,
Motorcycle
.